Miami-Dade transit union buys full-page ad on Gimenez over attempted pay hike after Gimenez complains about transit absenteeism via Miami Herald by Doug Hanks
HIGHLIGHs
Eight Metro Rial Cars promised, only 6 running, where are the other two?

Miami-Dade Transit says it has a *new* schedule for replacing Metrorail trains that appears to be about three months later than the one posted in June - Doug Hanks.

Current cost: $380 million replacement of the entire Metrorail fleet.
Metrorail passengers have begun riding the second new train launched by Miami-Dade County since Ronald Reagan was president. The bad news: It's half the size of the four-car train launched in November.
The two-car train that debuted Tuesday morning officially puts the county behind schedule, based on a projected lineup of new cars the county's transit agency published in June.
That schedule showed eight Metrorail cars in service by Feb. 1, but there are only six cars running now. A transit spokesman, Luis Espinoza, said a second pair of cars would start rolling in February
.
Miami-Dade's
first new Metrorail train since the system launched in 1984
was well received when it debuted in late November. With freshly built interiors, modern electronics and other upgrades, the new trains should offer the kind of reliability that has become rare in a train system so old that the county struggles to find replacement parts.
Alice Bravo, the county's transportation director, said Tuesday that a new replacement schedule would be released this week to account for production delays tied to flooding last spring at the Missouri factory of a manufacturer of some train components. She said Hitachi, the maker of the trains, exercised its Act of God clause in the county contract last summer, after the original schedule was published.
"This is such a complicated operation, with parts coming from around the world," Bravo said. "There may be another schedule change. But everybody knows the urgency we have for getting these cars into service."
The new cars are part of a
$380 million replacement of the entire Metrorail fleet
, which is suffering from years of deferred maintenance and an underfunded repair program. Though Miami-Dade commissioners approved more funds for Metrorail in 2018, a promised reduction in wait times between trains isn't scheduled until June because of the lack of replacement trains, transit officials said.
County leaders say the new trains should significantly reduce delays on Metrorail. The plan was to have enough new trains in service by
June — 44 cars in all — so that the majority of passengers should be riding in all new equipment. But Bravo said the new schedule would likely push that milestone to September.
Full replacement was scheduled to be completed by the end of 2019, and Bravo said Tuesday she did not expect that to change.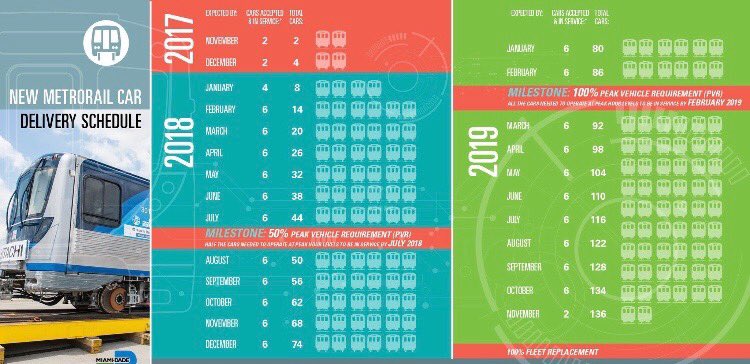 READ:
http://www.miamiherald.com/news/local/community/miami-dade/article197347574.html